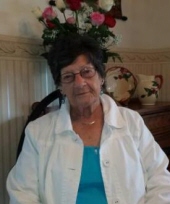 Obituary for CAROLYN R. GARVIN
Carolyn R. Garvin, 78, of Fulton entered Heaven's gates on October 27, 2017, following a valiant fight against cancer.

She was born on July 9, 1939 in Smith County, Mississippi, the daughter of the late Oliver Regions and the late Velma (Thompson) Regions.

Carol relocated to Fulton in 2014 to be closer to her daughter, Lisa, and son-in-law, Steve.  She was a volunteer at Clothes Cupboard.  She loved to laugh and no matter where you were in life, she could bring a smile to your face. Her family and friends meant everything to her.  And lastly, that sassiness will live on with us forever.

Carol was united in marriage to Robert Eugene Garvin who preceded her in death in 2000.

Remaining to cherish Carole's memory are her son, Bobby King; daughter, Lisa Weber and husband Steve of Fulton; sisters, Mattie Ruth Harrell (the late Roy) of Morton, Ms., Audrey Mae Hines (the late Austin) of Morton, Ms., Jeanette Routh (Donald) of Newborn, Ga., and Karen Dale Brown (Bruce) of Morton, Ms.; brother-in-law, Bud Morrison (the late Barbara) of Picayune, Ms. grandchildren, Brandon and Matthew King of Morton Ms.; three great-grandchildren, Ethan, Leland, and Elijah; and a host of nieces and nephews.

When Carol entered Heaven's gates, she was welcomed by her parents, Oliver and Velma Ann (Thompson) Regions; husband, Gene; brothers, Jimmy Ray, Marion Dennis, and Oliver Lee; and sister, Barbara.

A memorial service will be held at Rock Tree Apartments Clubhouse on Thursday, November 2, 2017 from 10:00 a.m. until 12:00 p.m. It will be officiated by Pastor Bruce Williamson.

At a later date, Carol will be taken home to Morton, Ms. for a Celebration of Life with her final resting being Mount Olive Primitive Baptist Cemetery.

Condolences may be left for the family on this site.